Northeast Georgia Citadel Club
On April 14, 2016, the newly formed Northeast Georgia Citadel Club held its first meeting in Gainesville with 24 grads turning out. Founder Ray Mayer '74 presided. After conducting a formal muster, club members were briefed by CAA Director and Southside Atlanta Citadel Club president Ed White '66 on issues and opportunities for alumni and Todd Rivers '88 (Southside Atlanta Citadel Club vice president) spoke about recruiting. A good time was had by all and more events are in the making.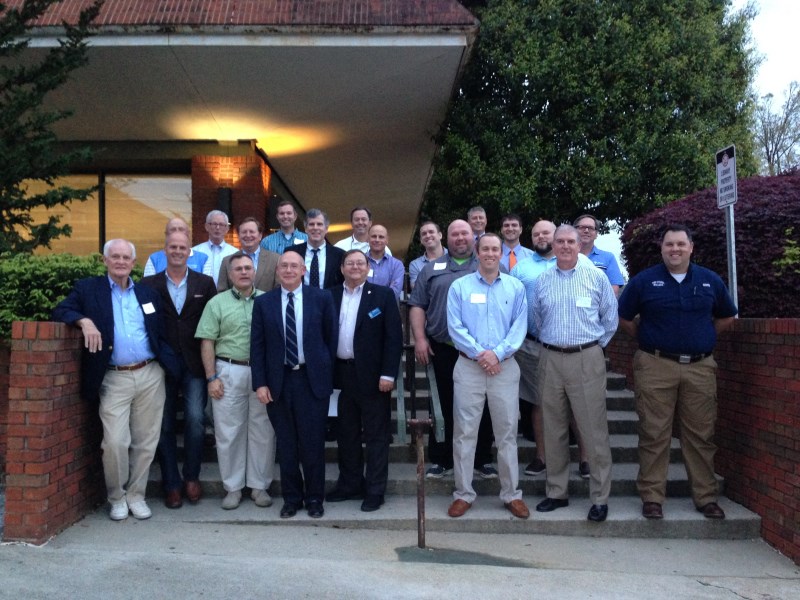 Photo caption: Pictured from left to right, front to back: Row 1: Sam Mitchell '66, Todd Rivers '88, Greg Bailey '87, Ray Mayer '74, Ed White '66, Blake Vandiver '06, Chuck Walden '87, Jeremy Gillespie '08; Row 2: Brett Copeland '92, Dusty Benefield '06; Row 3: Mike Hulsey '65, Mark Seals '78, Bill Akins '76, Barry Lucas '83, Evan Watson '05, Matt Hill '14, John Suddath '79; Row 4: Joe Beall '75, Joe Cummings '95, Kyle Hinnant '87, Britt Daniel '94; not pictured, Pete Paulos '69 (whose daughter went into labor during the meeting), Robert Copelan '81 and Ben Taylor '91.