Want to know who's in the area?
Go to the Member's page
Need the password?
Email Club President

---
Mission Statement
On a regular, predictable timeline, club members will provide a venue in the southern Atlanta area for Citadel graduates, families, and prospective Citadel family members to come together. We will meet in order to socialize, sponsor new cadets, and support the Citadel and Citadel alumni.
The members of the Southside Atlanta Citadel Club will plan and organize regular meetings of local Citadel graduates, families, and prospective Citadel cadets. The meetings will provide fellowship and entertainment for members, sponsor new cadets, and support the Citadel and Citadel alumni.

---
TO&E
Is this term still used anymore? Regardless, please take a moment to update your vital statistics such as email, phone, address.... and if you happen to know any information on other grads in the area, please let us know so we can contact them.

---
The Citadel Alma Mater

Oh Citadel we sing thy fame
For all the world to hear,
And in the paths our fathers showed us
Follow without fear.
Peace and Honor, God and Country,
We will fight for thee.
Oh Citadel, we praise thee now
And in Eternity.
Oh Citadel, though strife surrounds us,
We will ever be
Full conscious of the benefits
That we derive from thee.
Stand forever, yielding never
To the tyrant's Hell
We'll never cease our struggles for
Our mighty Citadel.
Cadet A. Preston Price '43
</P>

Press Start Key Twice
CONTACT INFO: Please let us know of any changes in your contact information or to add newly located Alumni to our listing.

FACEBOOK: For all you Facebook Fans... our club page... click here


---
The Citadel's Newest Club

2016 marks our 13th year

This picture, taken at our third meeting, tells what it's all about. Perhaps it was best stated by Landon Moxley when he said "We had a great time last weekend, always good to be able to spend time with good people."

From the beginning we felt the club shouldn't be restricted to the "long grey line" but should include those that make our lives so rich - wives, significant others, children... don't leave home without them.
---
Meeting Schedule for 2016

Please mark your calendars in advance! We know that each of you have very busy lives but please work your schedules around these dates. Based on your feedback that sometimes the Saturday meeting dates are difficult to work around, we will be alternating between Saturdays and Thursdays. We are now working on the planning of the event and the venues - check back often.

Date

Event

Directions

Thursday, 25 February
Club dinner with wives. Start time at 6:30 pm - Location Mama Lucia's Italian Restaurant, Newnan. Presentation from Ed White on CAA winter Board meeting and plans for the 2016 Club Muster
236 Newnan Crossing Bypass.
http://www.mama-lucias.net/
Saturday 26 March
Club Muster with start at 2:00 pm. This will include a pot luck dinner. Location - Youth building at Central Baptist Church Newnan.
Corner of Brown and East Broad Streets.
Thursday, 28 April
Lunch at Meat & Greet in Newnan. Start at 12 noon. Meet in lounge. Discussion will focus on Bourbon on the Porches sponsorship and initial planning for event
?? June
Bourbon on the Porches - cancelled by the Carnegie Foundation - perhaps next year.
22 October
2nd Annual Oyster Roast and Cookout. Daryl Greenberg has graciously volunteered to host this event to welcome new members and host parent of cadets
4 December
Holiday gathering at the PTC White House. We will again collect Toys for Tots. Last year's effort was a great success, and I know that we can do even better this year
Please RSVP prior to each scheduled meeting so that we can make appropriate plans. RSVP to Ed White, 770-314-2466.
---
January Club Meeting at Smokey Bones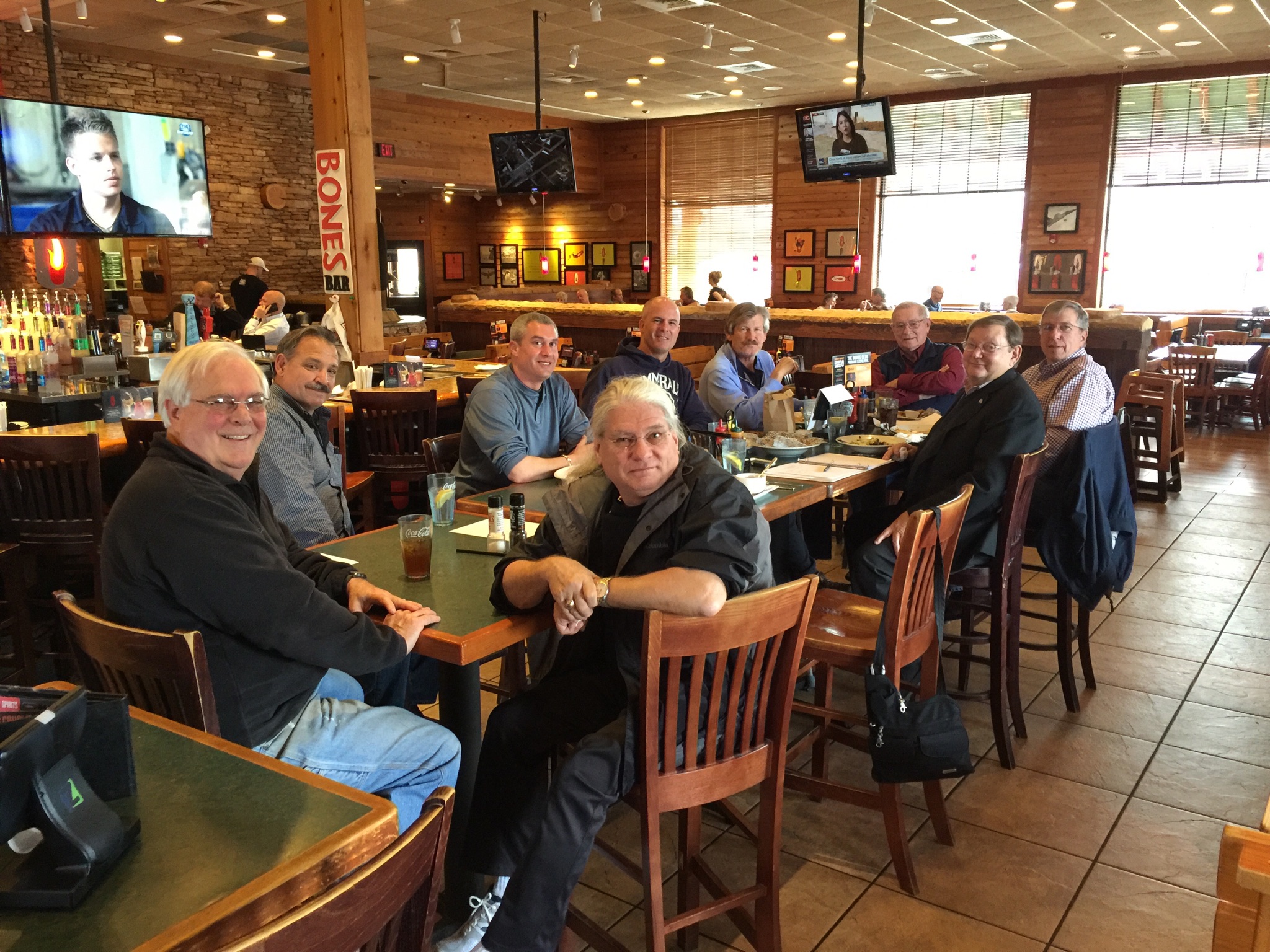 Clockwise beginning at end of table: Banks Glover, Bob Weimann, Dary Greenburg, Todd Rivers, Marty Potash, Don Mullen, Lee Nall, Ed White and Doug Powell
---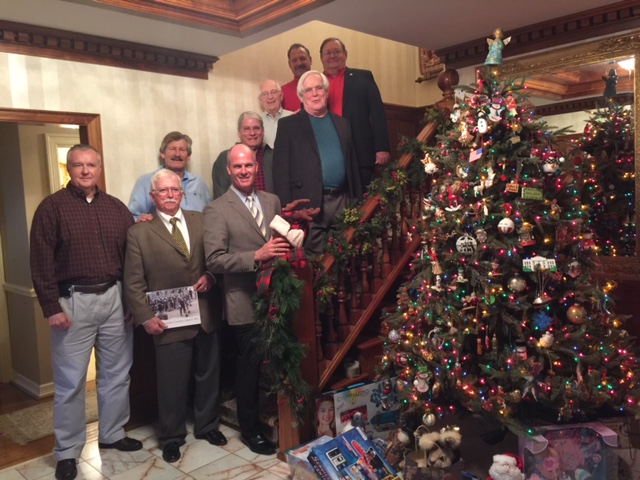 Club members enjoyed a holiday gathering at the home of our Club President, Ed White and his wife, Diane on December 6, 2015. With a delicious spread and plenty of holiday "cheer", a good time was had by all. The party marked the end of a highly successful Toys for Tots campaign conducted by our Club in support of the Marine Corps' effort in Fayette and Cowetta Counties. Thanks to all that contributed. We plan to make this an annual campaign.
---
---

Article by General Rosa in Charleston Paper
(click below for larger view)

Our Class of 1969 recently celebrated our 45th year reunion. Here are a few recollections you all can identify with.

The first is the recollections of knob year in F company, class of 1970 - the year was 196

6

.

The second is an article by a classmate reflecting on the Band of Brotherhood between the Citadel and VMI.

The third is a rebuttal to a Charleston News and Courier article that derided our plebe system as cruel abuse. By my classmate Nat Davis - Hazing is Good For You.


And finally... a little humor.


---
---
Speaking of Recruitment: Take a gander at the new recruitment video: Click here

Two Videos to Watch
(Click on picture to view)



Service and Sacrifice: A Citadel Tradition
(note: silence for first 30 seconds)




South of Broad: a song we can all relate to:
---
Another famous father's son at the Citadel. We all knew about Ted Turner's sons being at the Citadel.. Now another one:
Rick Santorum's son at the Citadel.




Brian Bossman and Marty Potash represented the Southside Atlanta Citadel Club at the 2010 IACT(Inter Service Academy Golf Tournament) at the Connecticut Golf Club in Easton Connecticut. Although a gallant effort, the team was only able to grab 4th place. Next year..lets get a better showing and sink Navy!!
---
Of the 161 local alumni on record, 31 have attended at least one club meeting since our first meeting back in November 2003! Let's all make a concerted effort to increase that number. We need everyone's help on this - call and remind others to come.
---
Summerall Guards Kentucky Performance
Doug Powell sent us this video of the Summerall Guards performing at a Kentucky Basketball game.
He wondered what damage the shoes and rifles did to the floor.. (press start key twice to begin)

---
Morris D. Robinson - Citadel Graduate, Football Player, Opera Singer. Watch this

---

When David Boyd '60, Jack Camp '65 and Banks Glover '69 were lamenting the long sober drive from Newnan to the Atlanta Citadel Club, the question was raised. "why don't we just start one down here". Turns out there are over 40 graduates in the immediate vicinity and that number is growing. So in November 2003 we held our first meeting.
Click on pic to see full sized newspaper writeup.


Telling tales for the '60's are Pat Conroy '67, Carl Anderson '62 and Jack Camp '65. Conroy entertained members of the Atlanta Citadel Club February 16th before his book-signing for the standing room only crowd at the Ansley Golf Club. Conroy was amused that despite the "honor code", in his travels for these "signings", he has counted that he's had 68 Citadel roommates and has actually met 12 former cadets who confessed to being members of "The Ten". "No kidding....!!!"
---