Want to know who's in the area?
Go to the Member's page
Need the password?
Email Club President

---
Mission Statement
On a regular, predictable timeline, club members will provide a venue in the southern Atlanta area for Citadel graduates, families, and prospective Citadel family members to come together. We will meet in order to socialize, sponsor new cadets, and support the Citadel and Citadel alumni.
The members of the Southside Atlanta Citadel Club will plan and organize regular meetings of local Citadel graduates, families, and prospective Citadel cadets. The meetings will provide fellowship and entertainment for members, sponsor new cadets, and support the Citadel and Citadel alumni.

---
TO&E
Is this term still used anymore? Regardless, please take a moment to update your vital statistics such as email, phone, address.... and if you happen to know any information on other grads in the area, please let us know so we can contact them.

---
The Citadel Alma Mater

Oh Citadel we sing thy fame
For all the world to hear,
And in the paths our fathers showed us
Follow without fear.
Peace and Honor, God and Country,
We will fight for thee.
Oh Citadel, we praise thee now
And in Eternity.
Oh Citadel, though strife surrounds us,
We will ever be
Full conscious of the benefits
That we derive from thee.
Stand forever, yielding never
To the tyrant's Hell
We'll never cease our struggles for
Our mighty Citadel.
Cadet A. Preston Price '43
</P>

Press Start Key Twice
CONTACT INFO: Please let us know of any changes in your contact information or to add newly located Alumni to our listing.



We Are Now A Gold Star Club
---

2017 marks our 14th year

This picture, taken at our third meeting, tells what it's all about. Perhaps it was best stated by Landon Moxley when he said "We had a great time last weekend, always good to be able to spend time with good people."

From the beginning we felt the club shouldn't be restricted to the "long grey line" but should include those that make our lives so rich - wives, significant others, children... don't leave home without them.
---
Meeting Schedule for 2017

Please mark your calendars in advance! We know that each of you have very busy lives but please work your schedules around these dates. Based on your feedback that sometimes the Saturday meeting dates are difficult to work around, we will be alternating between Saturdays and Thursdays. We are now working on the planning of the event and the venues - check back often.

Date

Event

Directions

December 14, 6:30 pm
Annual Christmas Party
Wynn's Pond Boone Cabin. Click for map.
Please RSVP prior to each scheduled meeting so that we can make appropriate plans. RSVP to James Holt, jwholtiii2@hotmail.com
---
Rob Isaac introduces a prospective cadet to the world
Thomas Baker Isaac Born July 22nd
---
Club Planning Meeting at Meat'n Greet - July 13, 2017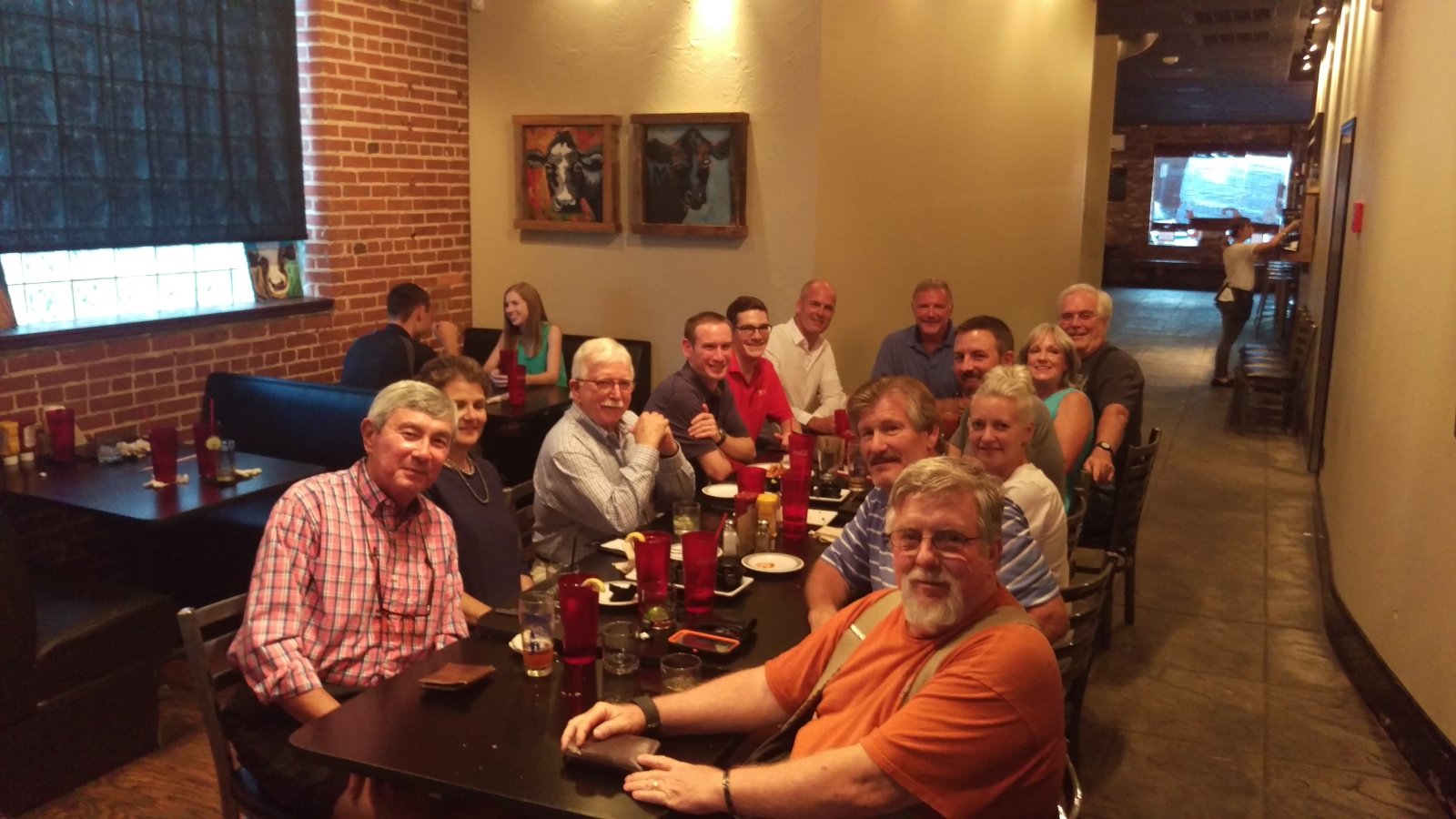 Clockwise beginning left: Mike Swain '73, Liz Camp, Jack Camp '65, Rob Isaac '08, Alex Casalino '17 (newest member), Todd Rivers '88, Mike Kelsch '80, Banks Glover '69, Carol Glover, James Holt '02, Laura Potash, Marty Potash '78, Carl Boone '72
---
June 2017 Meeting - Cookout at Wynns Pond.
Really good turnout in spite of the week long threat of rain and great to have Daryl Greenburg back if only for a short visit. (click on pic for larger view)




Incoming Cadet





Cameron Clark drove all the way from Columbus to join our meeting. She has the attitude and drive to make it all the way. Cameron, we thoroughly enjoyed your visit and stand ready to assist you in any way you may need.
---

Planning meeting was held at Newnan's Meat and Greet. We were able to put several items on the meeting schedule. Rob did a fantastic job of running the meeting and coming up with the event schedule. James couldn't make the meeting as his wife was in labor. Want to see the outcome?
| | |
| --- | --- |
| Daddy and Son | Presenting James William Holt IV |
---
2017 Muster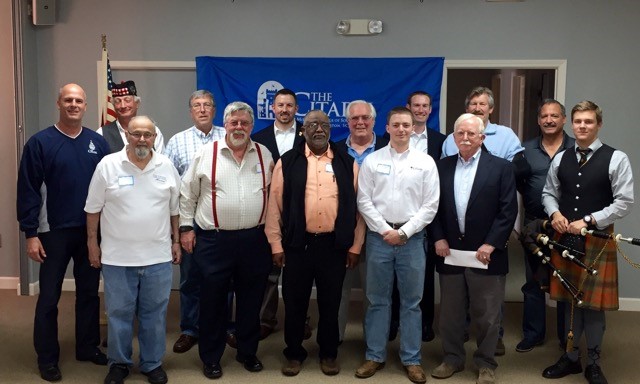 Once again we had a really good turnout for our 2017 Muster.
And this note from our lead piper
Dear Bulldogs,
Thank you so much for including me in these musters. I look forward to them every year. Of course the food is wonderful but the camaraderie is the greatest. Additionally, the purpose for this particular muster is so right and good. We need to remember our friends, and comrades and our band of brothers (now sisters also) who enriched our lives and who, in many cases, served in the armed forces to assure we can muster from time to time in peace and security. As you know, I did not attend the Citadel but I have always admired and respected those who did. You are a very fine lot and I am humbled you embrace me as one—at least for a day.
A special thanks to James for his willingness to head up this group. Let me know if I can ever help you out. Really, I mean it.
Michael Scott
---



Past President hands over the Presidential Plaque and the club treasury envelope to incoming president James Holt '02.

Message from Outgoing Club President Ed White

I'm happy to report that the Southside Atlanta Citadel Club held an election on Saturday, Feb 18, 2017, and the alumni listed below were elected.

President: James Holt '02
1st Vice President: Rob Isaac '08
2nd Vice President: Todd Rivers '88
Sgt-at-Arms and Webmaster: Banks Glover '69
Club Founder and Advisor: Jack Camp '65
Immediate Past President and Advisor: Ed White '66
---
Governor Nathan Deal appointed David Hewes ('70) to the Aviation Hall of Fame Board. Hewes retired as a programming directory with AAR Corp. at Delta Airlines. He began his career with Southern Airways and has experience in technical operations, in-flight service, finance, security and aircraft accident investigation. Hewes earned a bachelor's degree from the Citadel. He and his wife, Catherine, have three children and four grandchildren. They reside in Newnan. (Newnan Times Herald, December 21. 2016)
---
Christmas 2016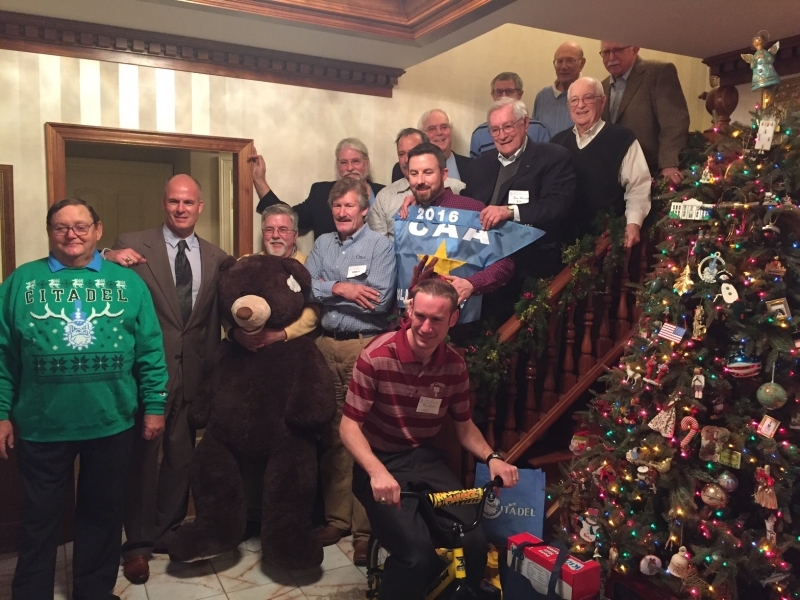 On December 4, 2016 members of the Club gathered at the Peachtree City White House to celebrate our selection as a Gold Star Club and another highly successful Toys for Tots campaign. Pictured from left to right is Club President Ed White, Club Vice President Todd Rivers, Carl Boone, Marty Potash, Doug Powell, Bob Wiemann, James Holt, Co-founder Banks Glover, Brian Waters, Don Mullen, Wilder Davis, Bill Horne, Co-founder Jack Camp and in front, Rob Isaac.


Click Here for more detail



Club President, Ed White and Club Vice President, Todd Rivers met with Michael Keever, LTC USMC (Ret) and Michelle Gillespie, leaders of the Coweta County/Fayette County Toys for Tots program to distribute toys gathered by our club during our 2016 campaign.

---


A Chance Encounter

One of my 1969 Classmate's daughter was in Nashville Tennessee at a really nice "dive". She was recording some of a singer's music when she noticed he had on a Citadel Ring. Here is the exchange.. Enjoy!

Your browser does not support the video tag.
Happens to be singing an old Beach Music Song
>
Oyster Roast, November 2016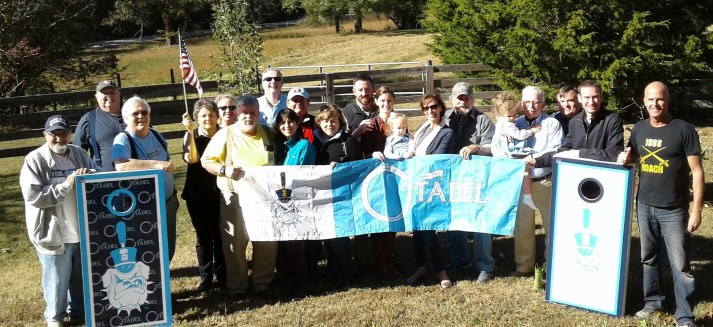 Held at Jack & Liz Camp's farm... good turnout, great food and wonderful company.
---

Club Vice President Todd Rivers ably represents The Citadel at the 2016 State College Fair.
"It was a good day of recruiting.. a lot of interest in our school.

Speaking of Recruitment: Take a gander at the new recruitment video: Click here
---
---
A Citadel Flyover - Pictures taken by our own Todd Rivers
---
Summerall Guards March at Mardi Gras 2016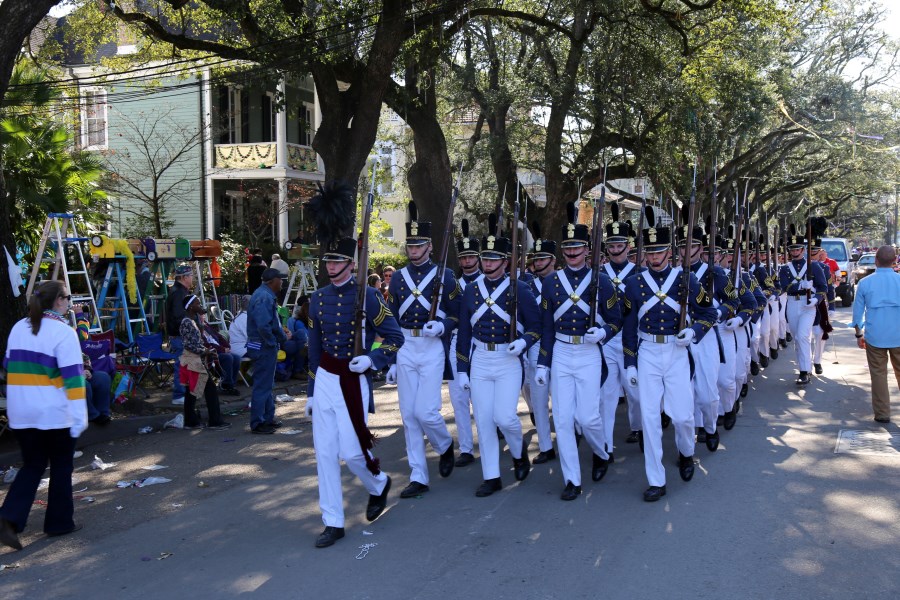 ---
---
Life at the Citadel - Several Great Videos
Your browser does not support the video tag.
Service and Sacrifice: A Citadel Tradition
(note: silence for first 30 seconds)
Your browser does not support the video tag.
South of Broad: a song we can all relate to:
Your browser does not support the video tag.
Summerall Guards Kentucky Performance
Doug Powell sent us this video of the Summerall Guards performing at a Kentucky Basketball game.
He wondered what damage the shoes and rifles did to the floor..
Your browser does not support the video tag.
Morris D. Robinson - Citadel Graduate, Football Player, Opera Singer
Your browser does not support the video tag.


2016 Recruiting Video: 4 Pillars of Leadership Development




Why a Citadel Graduate is a Cut Above.



Your browser does not support the video tag.


General Rosa announcing that US News and World Report ranked The Citadel as Number ONE Public College in theSouth. In their 2016 review, the Citadel achieved the Number One Public College in the South for the SIXTH consecutive Year.




Your browser does not support the video tag.
Compare the new one to a Recruiting Video from 1969


Your browser does not support the video tag.
And for you Oldies... remember the old Grace Bridge?


---
Another famous father's son at the Citadel. We all knew about Ted Turner's sons being at the Citadel.. Now another one:
Rick Santorum's son at the Citadel.




Brian Bossman and Marty Potash represented the Southside Atlanta Citadel Club at the 2010 IACT(Inter Service Academy Golf Tournament) at the Connecticut Golf Club in Easton Connecticut. Although a gallant effort, the team was only able to grab 4th place. Next year..lets get a better showing and sink Navy!!
---
Of the 161 local alumni on record, 31 have attended at least one club meeting since our first meeting back in November 2003! Let's all make a concerted effort to increase that number. We need everyone's help on this - call and remind others to come.
---

When David Boyd '60, Jack Camp '65 and Banks Glover '69 were lamenting the long sober drive from Newnan to the Atlanta Citadel Club, the question was raised. "why don't we just start one down here". Turns out there are over 40 graduates in the immediate vicinity and that number is growing. So in November 2003 we held our first meeting.
Click on pic to see full sized newspaper writeup.


Telling tales for the '60's are the late Pat Conroy '67, Carl Anderson '62 and Jack Camp '65. Conroy entertained members of the Atlanta Citadel Club February 16th before his book-signing for the standing room only crowd at the Ansley Golf Club. Conroy was amused that despite the "honor code", in his travels for these "signings", he has counted that he's had 68 Citadel roommates and has actually met 12 former cadets who confessed to being members of "The Ten". "No kidding....!!!"
---