Want to know who's in the area?
Go to the Member's page
Need the password?
Email Club President

---
Mission Statement
On a regular, predictable timeline, club members will provide a venue in the southern Atlanta area for Citadel graduates, families, and prospective Citadel family members to come together. We will meet in order to socialize, sponsor new cadets, and support the Citadel and Citadel alumni.
The members of the Southside Atlanta Citadel Club will plan and organize regular meetings of local Citadel graduates, families, and prospective Citadel cadets. The meetings will provide fellowship and entertainment for members, sponsor new cadets, and support the Citadel and Citadel alumni.

---
TO&E
Is this term still used anymore? Regardless, please take a moment to update your vital statistics such as email, phone, address.... and if you happen to know any information on other grads in the area, please let us know so we can contact them.

---
The Citadel Alma Mater

Oh Citadel we sing thy fame
For all the world to hear,
And in the paths our fathers showed us
Follow without fear.
Peace and Honor, God and Country,
We will fight for thee.
Oh Citadel, we praise thee now
And in Eternity.
Oh Citadel, though strife surrounds us,
We will ever be
Full conscious of the benefits
That we derive from thee.
Stand forever, yielding never
To the tyrant's Hell
We'll never cease our struggles for
Our mighty Citadel.
Cadet A. Preston Price '43
</P>

Press Start Key Twice
CONTACT INFO: Please let us know of any changes in your contact information or to add newly located Alumni to our listing. Click here.

FACEBOOK: For all you Facebook Fans... our club page... click here


---
The Citadel's Newest Club

2015 marks our 12th year

This picture, taken at our third meeting, tells what it's all about. Perhaps it was best stated by Landon Moxley when he said "We had a great time last weekend, always good to be able to spend time with good people."

From the beginning we felt the club shouldn't be restricted to the "long grey line" but should include those that make our lives so rich - wives, significant others, children... don't leave home without them.
---
Meeting Schedule for 2015

Please mark your calendars in advance! We know that each of you have very busy lives but please work your schedules around these dates. Based on your feedback that sometimes the Saturday meeting dates are difficult to work around, we will be alternating between Saturdays and Thursdays. We are now working on the planning of the event and the venues - check back often.

Date

Event

Directions

No meeting scheduled for November.
December 6
Christmas Gathering: 2:00pm until ???
The PTC White House
Directions TBA

Please RSVP prior to each scheduled meeting so that we can make appropriate plans. RSVP to Ed White, 770-314-2466.
---
A brief message from our Club President, our new Georgia District Director to the Citadel Alumni Association.
I just received a very nice phone call from Tom McAllister, Assistant Director of Alumni Affairs for the CAA. Tom informed me that I have been selected to serve on the Board of Directors for the CAA as one of two Directors representing District 11, the State of Georgia. This is a position that I truly wanted but I could not have reached without the strong backing of The Southside Atlanta Citadel Club. I want to thank each of you that supported me during this campaign. Please know that this new position will not change my desire to serve as the President of the Southside Citadel Club. Thank you all again for all of your support.

Ed White
---
A Radical Change of Direction - Memoir of the Spiritual Journey of a Surgeon
Many of you know Don Mullen - a true Renaisance Man. After graduating the Citadel '57 he went on to become a highly successful cardiac surgeon - but this all changed when he volunteered to a medical mission trip to Kenya. Follow his journey from conservative surgeon to a more spiritual based life. He graduated seminary with a Doctorate of Divinity and has since worked in three war zones, numerous countries all over African, the Far East and the Middle East. He has spoken and preached in dozens of churches in the United states and most recently had been a multi term mayor in Highlands N.C. prior to his move to Newnan.

He has documented this spiritual journey of a surgeon and his life before and after his defining moment of change, along with his heritage, which may have led to his nonconformist personality. His book is available on Amazon and many of the other book houses.
---
Family Fish Fry and Oyster Roast
Great party at Jack's. Everyone left stuffed except for Todd River's wife Helen - who knew she won an oyster eating contest by downing 109 oysters in 15 minutes. Fortunately she left a few for the rest of us. Fun games and fellowship. Susan Conlan, mother of David Conlan a recent graduate, showed up to join us - thanks Susan. Also joining us was Ed White's son Trey, a Naval Aviator... kept many of our commercial pilot alumni well entertained. Chef of the event was none other than Charles Stone, retired GBI agent and friend to most all of us.. he did his typical remarkable job with the catfish.
Thanks again Charlie!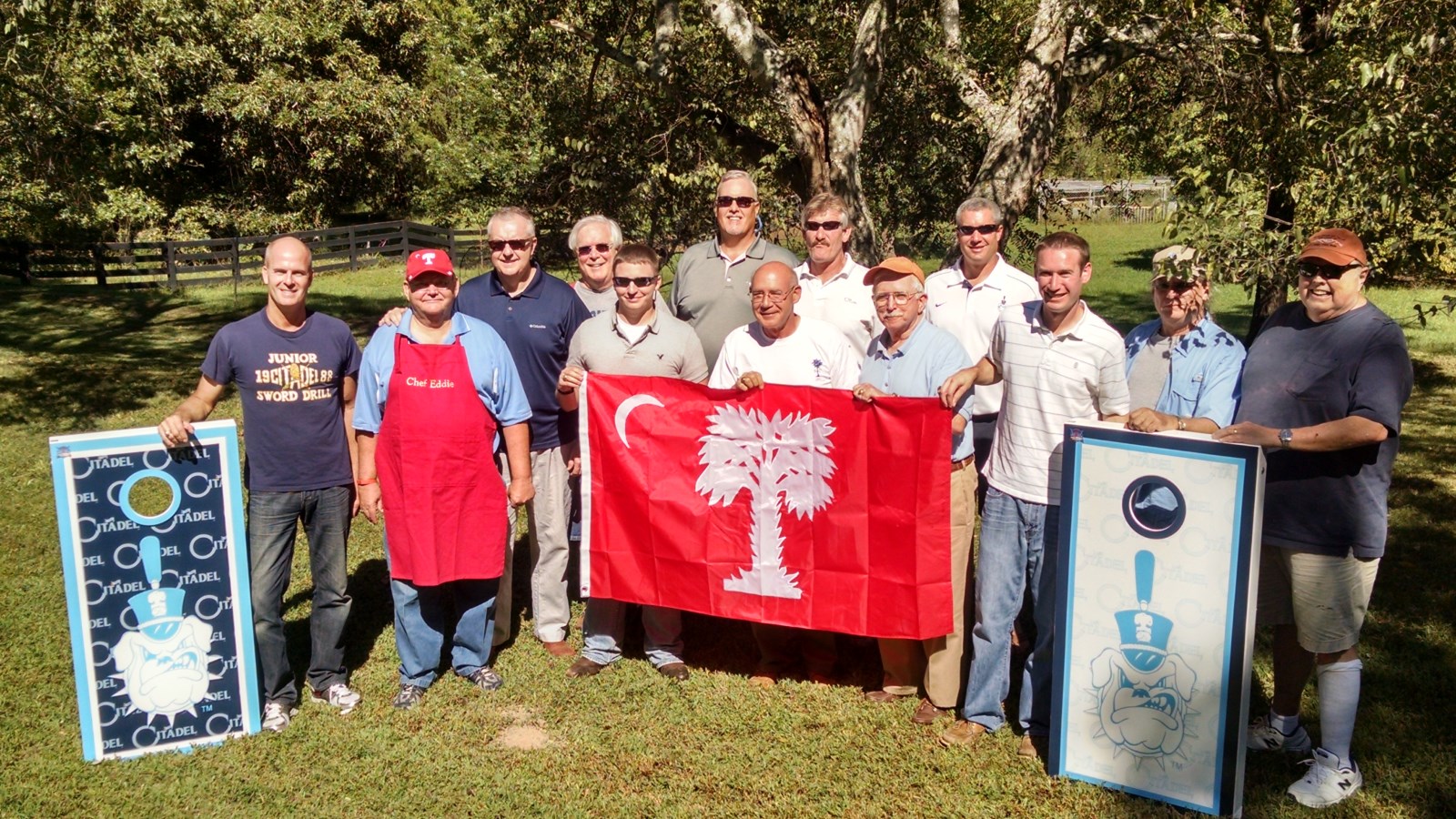 L/R 1st Row: Todd Rivers '88, Club Vice President, Ed White '66, Club President, AJ Jordan '15, newest Club member, Ray Mayer '74, Club Past President, Jack Camp '65, Club Co-Founder, Rob Isaac '08, Doug Powell '72, Oyster Shucker, Charlie Stone, Chief Chef
L/R 2nd Row: Scott Clements '84, Banks Glover '69, Club Co-Founder, "Tiny" Menchinger '80, Marty Potash '78, Club Past President, Daryl Greenberg '96, Chief Oyster Schucker
---
---
Our 2015 Muster Service


After the Muster Service and meal we held a brief business session in which President Ed White announced several changes he wants to initiate this coming year - first being that we are going to become more heavily involved in the recruitment effort at local high schools and plan to have a special meeting to include prospective cadets and their parents. Second is to make plans for future meetings and events several months in advance so we can each try to avoid conflicts. Third is to plan exciting events such as a camping and fishing weekend at Jack's bass pond and better planning for the annual shootout. Fourth is to reach out to local alumni who were once active in the club but no longer attend.
---
Message from our Club President
(This from an email sent to Tom McAlister of the Alumni Association)
On December 7, 2014 The Southside Atlanta Citadel Club held its annual Christmas gathering. We recognized Ray Mayer for his outstanding service and presented him with the CAA recognition certificate. Tom, this was very well received by not only Ray but also club members who felt it was deserved. As you and I have discussed previously, I believe that a formalized program to recognize Club officers that serve with distinction should be a consideration for the Association. As of the 7th, I assumed responsibility as our Club President and Todd Rivers ('88), an outstanding alum, assumed the position of vice president. Additionally, Banks Glover ('69) has agreed to stay on as our webmaster. We look forward to initiating an active cadet recruiting program in 2015, and the Atlanta Citadel Club has agreed to work with us on this effort.

Article by General Rosa in Charleston Paper
(click below for larger view)

Our Class of 1969 recently celebrated our 45th year reunion. Here are a few recollections you all can identify with.

The first is the recollections of knob year in F company, class of 1970 - the year was 196

6

.

The second is an article by a classmate reflecting on the Band of Brotherhood between the Citadel and VMI.

The third is a rebuttal to a Charleston News and Courier article that derided our plebe system as cruel abuse. By my classmate Nat Davis - Hazing is Good For You.


And finally... a little humor.


---
---
Speaking of Recruitment: Take a gander at the new recruitment video: Click here